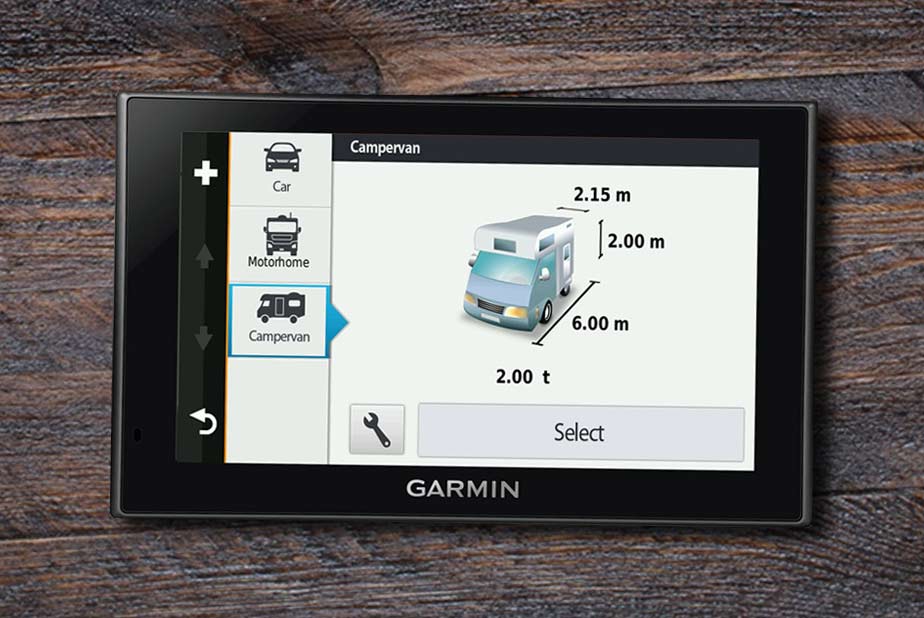 Review and Test of the GARMIN Camper 660LMT-D
The motorhome and caravan sat nav Garmin 660LMT-D is the new 6 inch screen dedicated sat nav from Garmin designed specifically for caravans and motorhomes. Comes with specific points of interest for journeys in caravans and motorhomes, it plans routes based on caravan / motorhome dimensions and weight.
The Garmin 660LMT-D is the Garmin 770LMT-D's little brother. It is a caravan and motorhome sat nav built specifically for caravan and campervan drivers, and includes the indispensable features all best motorhome sat navs should have.
This model also comes with campsite and campground lists from ACSI and MHF and includes a campsite search engine which allows the user to find and chose campsites that offer the desired equipment and services.
This caravan and motorhome sat nav provides custom routing
As with all the best motorhome sat navs, the itineraries provided by the Garmin 660 LMT D are planned according to the size and weight of the motorhome or camper.

The Camper 660LMT-D contains detailed maps of Europe which includes information on road restrictions for motorhomes and caravans (narrow roads, height limitations, weight limitations, etc.)
When turned on for the first time, an intuitive configurator allows the user to input the specs of the motorhome such as dimensions and weight. This is an easy but crucial step as it is this information which will enable the sat nav to find and plan the most efficient itinerary that is suitable for the vehicle's profile. It will also allow the system to warn the driver of any hazards on the route (sharp curves, tree overhang, steep hills, etc.)
Guidance efficiency : a 10/10 for this caravan and motorhome sat nav!
The Camper 660LMT-D comes with a system called "Active Lane Guidance". This feature allows the sat nav to indicate rather precisely the correct lane for your route, making it easy to anticipate complicated junctions and exits thanks to brightly coloured arrows and vocal indications that are particularly accurate.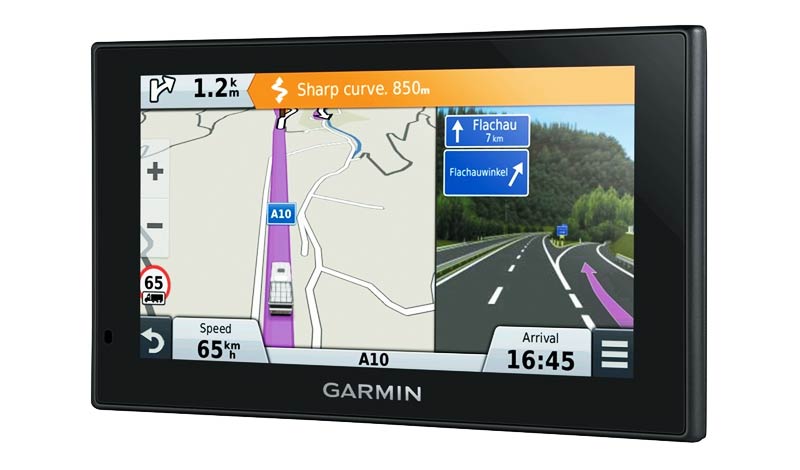 This model also includes the "PhotoReal" technology from the manufacturer. This pretty useful feature offers detailed photorealistic views of exits as they appear in real life.
Free lifetime map and traffic updates
On this Caravan and motorhome sat nav it is free to update the maps. This is a very important criteria as updating a sat nav can be expensive on some models. This enables the user to always have the latest maps and points of interests and thus reliable information on campsites, campgrounds, equipments, etc.
TMC traffic : The Camper 660LMT-D has a built-in traffic receiver in its power cable. The system is therefore able to offer real time traffic information which makes it possible to avoid traffic congestion. The service is included for free on this model and does not require a subscription. It is worth noting that this is not the case of all Caravan and Motorhome sat navs, as some models like the TomToms offer this service as an optional extra.
Is the caravan and motorhome sat nav Garmin 660 LMT-D easy to use?
A simple answer would be Yes! The Garmin 660LMT-D sat nav clearly displays the specific speed limits, the actual speed, and a rather precise ETA. It's also easy to see the name of the road you are travelling on. Planning trips and finding campsites is also intuitive and we like the simple profile configurator used to input the motorhomes weight and dimensions.
Live services on this model
The manufacturer offers a free app called 'Smartphone Link' which can be installed on an Android or Apple device, and that enables the Sat nav to connect to the internet using the phone's existing data plan. This gives the user access to additional information such as traffic, weather alerts, or difficult driving conditions ahead on the itinerary. The service is free and does not require any extra subscription.
Planning and sharing motorhome journeys with BaseCamp software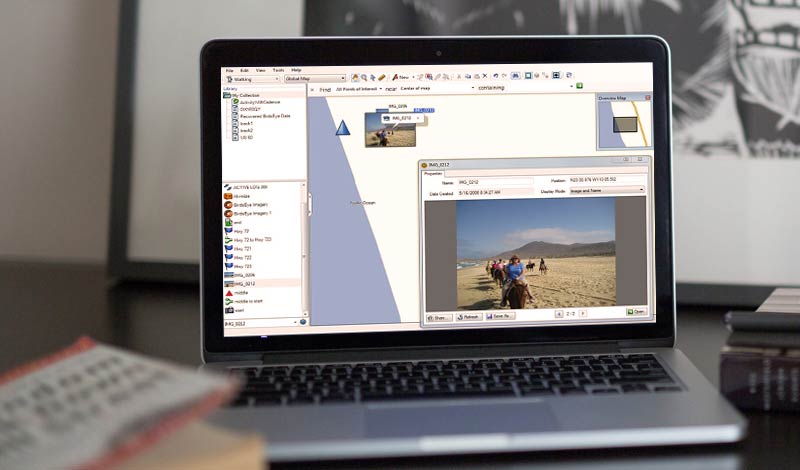 With help from the free software 'BaseCamp', it is possible to plan itineraries and find points of interest using a computer at home. The user can then upload the planned itineraries to the motorhome sat nav. The "Garmin Adventures" feature will also allow you to share your planned itinerary and download other users itineraries too. It's also possible to rate other users journeys. We think the creation of this tool is an excellent initiative as it is very handy for camping enthusiasts.
Voice control efficiency
We think the voice control feature on this Garmin 660LMT-D is very efficient. To activate the feature on this model, you just need to say "Voice command" and the unit then displays a list of voice activated controls. The user can speak to the sat nav and ask it to plan an itinerary, set the volume to the desired level, and even control the screen brightness.
Information about the services available on the current itinerary
Whilst travelling on the planned route, the driver is informed by the sat nav of nearby addresses such as restaurants, shops or service stations.
New on this model, Garmin has enriched its points of interest directories. They now include millions of new popular Foursquare addresses. Users can easily find restaurants, shops, viewpoints and exceptional places on their way.
An innovative feature offered by this Motorhome sat nav
The Garmin 660 LMT D offers a technology called "Garmin Real Directions" which is a feature that can only be found on these Garmin sat nav systems. Using this feature, the motorhome sat nav is able to guide you close to the way a real person would. Indeed, this is quite impressive as the system will say for example "Turn right after the petrol station" . In other words, it gives you directions using real landmarks.
The Garmin "Real Voice" feature was created to avoid the "robot-style" voice you sometimes get with older sat nav models. It's quite effective as it offers a much more pleasant and natural voice.
Hands-free phone system (Bluetooth)
This model allows the user to pair a mobile phone via Bluetooth. This enables you to make calls directly from the sat nav's screen leaving your mobile phone in your pocket on in the glove compartment of your car or motorhome.
The quality of the built-in speaker is pretty decent. However the built-in microphone does not offer the same level of quality you can get with a dedicated device such as ones which come with a remote microphone and therefore you may have to speak quite loudly, especially in noisy vehicles.
Reversing camera compatibility
The Camper 660LMT-D is compatible with the Garmin BC 30 reversing camera which is unfortunately sold separately. Once connected, the sat nav can display the video signal on the screen when the reverse gear is engaged.
The Strengths of this Motorhome Sat nav
Detailed maps of Europe with 45 countries and free lifetime updates
Traffic information is included with no extra cost
Very efficient voice control feature
Large 6 inch screen with a nice display
Weaknesses of this Caravan and Motorhome Sat Nav
The free map updates are pretty heavy (downloads may take a long time)
The live services are free but require a mobile phone with suitable data plan
Conclusion : Our review of the Caravan and Motorhome Sat Nav 660 LMT-D from Garmin
This is a very efficient and comprehensive motorhome sat nav which offers everything the caravan and motorhome driver could need. Just like the bigger 770 LMT-D, this model offers great value for money. Indeed, the motorhome sat navs offered by the Garmin brand are often the best value for money out there.
Price: £352.28

& FREE Delivery in the UK
Detailed Specs for the Garmin Camper 660LMT-D
| | |
| --- | --- |
| Included accessories | Power cable (12-24V) with integrated digital traffic receiver, suction cup mount, USB cable. |
| Screen size | 6 in |
| Screen resolution | 800x480 px |
| Screen type | Multi-touch capacitive screen, TFT, White backlight |
| Maps | Europe, 45 countries |
| Free lifetime map updates | Yes |
| Campsite lists | Yes |
| Trip planner | Yes |
| Lane assist / Junction view | Yes |
| Live Services | Yes, using phone's data plan & Bluetooth |
| Traffic information | Via TMC (no subscription required) |
| Hands-free Phone feature | Yes |
| Reversing camera | Yes, optional |
| Voice control | Yes |
| Memory | Extension via MicroSD card (not included) |
| Battery type | Lithium-ion |
| Battery life | 1 hour approx. |
| Power | 12 & 24v adapter included |
| Dimensions | 168x94x19mm |
| Weight | 268g |
Share the Garmin 660LMT-D Review with a friend!