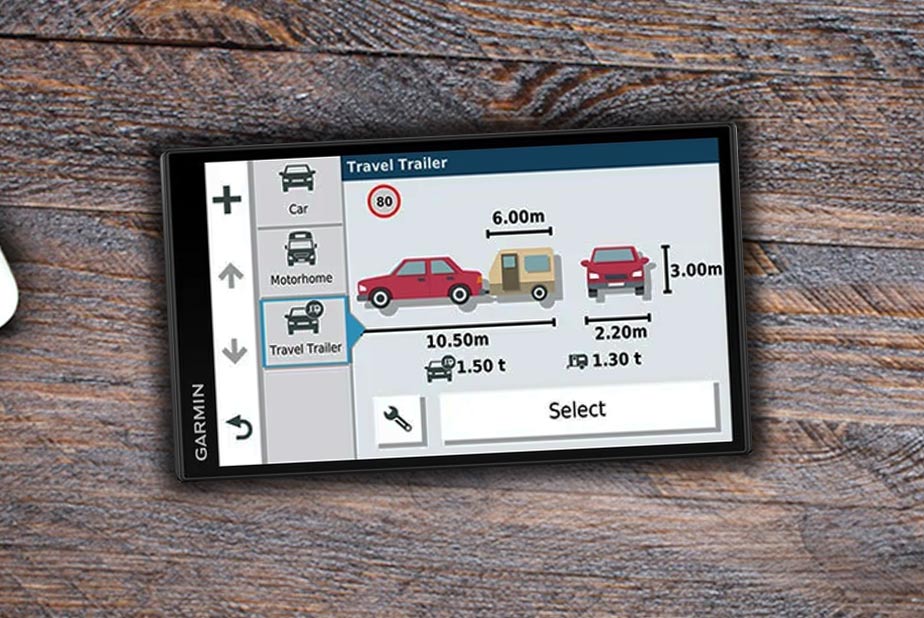 GARMIN Camper 780 Review, new motorhome and caravan Sat nav device from Garmin
The Camper 780 is the new motorhome and caravan sat nav from the well known american brand Garmin. It is specifically designed for caravan and motorhome drivers and includes vehicle weight and size management as well as specific Points of interest for trips with caravans and motorhomes. This device offers a 6.95 inch multi-touch screen. The new Garmin range includes 3 models : The Camper 780 which we are reviewing here, the Camper 785 which offers a slightly bigger screen and a built in dash camera, and the Camper 890 which has a bigger 8 inch screen. Most of the other features are common on all models.
The predecessor, the Camper 770 LMT-D was already a very good caravan and motorhome sat nav device, but this new model takes things to the level above. It is designed specifically for caravan and motorhome drivers and includes features which are essential to all best motorhome and caravan sat navs.
This new model comes with comprehensive campsite lists from ACSI, CamperContact(URL) and also free stop-over places from the Trailer's PARK database. The built-in campsite searching tool is still very efficient and allows you to search campsites that offer equipment that you need or that is required for your journey (like electric hook-up points or wi-fi access).
Buy on Amazon UK Or

Buy US Model on Amazon.com
Specific itineraries are provided by this motorhome sat nav

All itineraries provided by the Garmin Camper 780 are calculated according to the weight and size of your motorhome, caravan or campervan. The detailed maps of Europe include restrictions that caravan and motorhome drivers are regularly faced with like weight limits, narrow roads or bridge heights. The itineraries and personalised guidance take into account the specifics of the vehicle you are driving.
When you launch the device for the first time, you are prompted to enter the vehicle's profile information (weight, size…) in a rather intuitive configurator. Once this done, the system can then guide you by planning itineraries that will be compatible with your caravan or motorhome and will also give personalized warnings about relevant hazards such as steep hills, tree overhang or sharp curves, for example.
One useful additional feature is the possibility to now create several profiles for multiple vehicles. For example you could have one profile configured and named "Motorhome" and one named "Motorhome + trailer". Garmin have also made it easy to switch from one profile to the other.
Is the Motorhome sat nav Garmin Camper 780 Easy to use?
This model shows the current speed limits which are specific to your vehicle, the true speed the vehicle is running at, and a rather reliable estimated time of arrival. The smartphone-like touch screen makes it easy to pan across the map to find points of interest or to view the upcoming route and cities. It also makes it easy to go through menus. If you are comfortable using smartphones, these new motorhome and caravan sat navs are pretty similar and offer the same sort of intuitive use.
The Garmin Camper 780 still offers great Guidance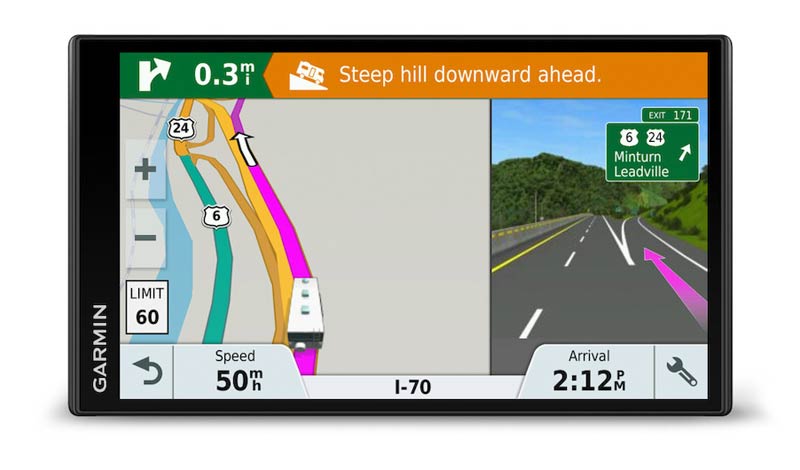 The Camper 780 offers the same great Lane Guidance from the previous models. The correct lane for our route was well indicated thanks to the contrasted bright arrows and vocal indications. This makes it easier to anticipate exits and complicated junctions especially with the photorealistic views which show them pretty much as they are in real life.
This Garmin sat nav GPS also comes with the "Garmin Real Directions" and "Garmin Real Voice" technologies. These are specific to the brand, and were designed to guide the driver in the same way that a friend would. The directions given are easier to understand as they include recognisable landmarks like buildings, signs or traffic lights. Thus, you sometimes hear the sat nav telling you : "Turn right at the traffic lights" or "Turn left after the black building". On the other hand, the "Real Voice" feature helps improve the quality of the voices. These sound more natural and pleasant, and reduce the "Robot effect" we get with some units.
Free Traffic information and Lifetime Map updates
This caravan and motorhome sat nav is one that will allow you to update maps for free. As we've said many times before, this is a very important criteria that you should consider when comparing different sat nav systems, because updating a sat nav can be expensive on some models which do not come with lifetime free updates. This means you know you are always up-to-date with the latest maps and points of interests and that the information on campsites, campgrounds is reliable.
Just like on previous models from Garmin, you can also update maps on this Camper 780 without having to plug the unit into a computer. Indeed, this motorhome and caravan sat nav has built-in Wi-Fi which makes it possible to connect it to the internet at home and download the updates directly from the unit itself.
Regarding live traffic information, unlike the previous model, Garmin have decided with the new Camper 780 to offer one version with traffic information via the users smartphone, and another version with a built in traffic receiver. If you go for the version with the built-in traffic receiver (DAB) it will cost you an extra 50 to 70 pounds. Either way, the traffic information is free and does not require any subscription of any kind. Note that when using traffic information with your smartphone, you will be using the internet connection of the phone. Using the internet on your phone when abroad can be costly so it is recommended to check this with your mobile operator to avoid unexpected costs.
Efficiency of the Live services
The manufacturer offers a free to download app called "Smartphone Link". Once this app has been installed on the user's Android or Apple device, the Garmin Camper 770 LMT-D can connect to the live services. It then becomes possible to access more detailed traffic information, receive weather forecasts, or live parking information. While these services are free, they require to use the internet access from your phone. This means you should check your phone's data plan especially when travelling abroad to make sure this data usage is included.
Camper 780 : Efficiency of the Hands free system and Voice control
The voice control features of this Garmin Camper 780 are the same as those on the previous models so are just as efficient. You say "Voice command" and the unit displays a list of voice activated controls. You can then plan an itinerary, or set the volume to the desired level, or even control the screen brightness. Once connected to the phone's Bluetooth, Garmin have tried to help the user to keep hands on the steering wheel by displaying notifications from the phone on the Camper's screen. This allows you to read SMS messages and other notifications without having to touch your phone.
The hands free phone feature which enables the user to make phone calls, still offers pretty good quality with the built-in speaker on this model. The built-in microphone however does not offer the same level of quality you expect with a dedicated device such as factory mounted units.
Efficiency of the Live services
The manufacturer offers a new free to download app that is now called "Garmin Drive". Once this app has been installed on an Android or Apple smartphone, the Garmin Camper 780 can connect to the live services. This then allows the device to access more detailed traffic or POI information, receive weather forecasts, and live parking information. While these services are free, they require you to use the internet access from your phone. As we've said previously, be careful when travelling abroad to make sure this data usage is included with your phone contract.
Information and User reviews about the services available on the itinerary
As with the previous Camper 770LMT-D, you can read useful information about the addresses nearby such as restaurants, shops, or service stations. The Camper 780 includes as well as the points of interest from Foursquare, user ratings and points of interest from TripAdvisor. This is great for those who already know and use the very handy TripAdvisor website. We find it very useful to have access to the TripAdvisor user reviews regarding the points of interest available on the itinerary all on the same device.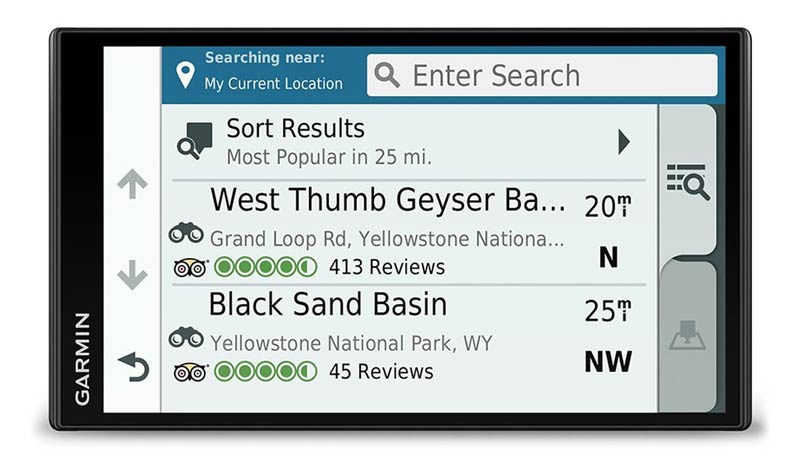 This caravan and motorhome sat nav is compatible with an optional Reversing camera
The Garmin Camper 780 is compatible with the official Garmin wireless cameras BC30 and BC40 which are unfortunately sold separately for about 130 to 140 pounds. Once connected, these cameras allow the sat nav to display the video signal on the screen when reverse gear is engaged.
What are the differences between the Garmin Camper 780, the Camper 785 and the Camper 890 Motorhome sat navs?
With this new generation, the manufacturer has decided to create a range of models :
The Camper 785 offers a more robust look without the edgeless screen and is basically the same device as the Caper 780 we are reviewing but with a built-in dash cam, and offers a longer battery life (up to 2 hours vs 1 hour)
The Camper 890 offers a bigger screen with a higher resolution (8 inch screen, resolution 1280 x 800 px) and a longer battery life (up to 2 hours vs 1 hour).
The Strengths of this Caravan and Motorhome Sat nav
Full Detailed maps of Europe and free lifetime map updates
The comprehensive live information and massive POI database with TripAdvisor user reviews
The stunning and pleasant multi-touch screen
The Weaknesses of this Caravan and Motorhome Sat nav
The live services are free but require an internet connection through a mobile phone. Also, you will need your phone's internet connection for traffic information unless you go for the rather expensive traffic cable option.
Garmin Camper 780 motorhome sat nav : Our opinion
This new motorhome sat nav from Garmin is very similar to the previous 770 LMT-D model which we had reviewed before and were very impressed with. Garmin have made some modifications to the product by making it faster and by updating its software. This has made the Camper 780 even easier and pleasant to use. It's just a shame the product no longer comes with a built-in traffic receiver which is now an optional extra. However, some may not be bothered by that and will be happy using the traffic information through Bluetooth.
This model is definitely very comprehensive. Our favourite feature is the integration of TripAdvisor because user reviews are precious and often very helpful.
If you think a built-in dash cam can be useful for you, go for the Camper 785 version and if you want an even bigger and higher resolution screen, go for the Camper 890.
Price: £339.00

& FREE Delivery in the UK
Or

Buy US Model on Amazon.com
Detailed Specs for the Garmin Camper 780
| | |
| --- | --- |
| Included accessories | Power cable (12-24V), suction cup mount, USB cable. |
| Screen size | 6.95 in |
| Screen resolution | 1024x600 px |
| Screen type | Multi-touch glass screen, TFT, White backlight |
| Maps | Full Europe |
| Free lifetime map updates | Yes |
| Campsite lists | Yes |
| Trip planner | Yes |
| Lane assist / Junction view | Yes |
| Live Services | Yes, using phone's data plan & Bluetooth |
| Traffic information | Optional with DAB or With Phone's data plan |
| Hands-free Phone feature | Yes |
| Reversing camera | Yes, optional |
| Voice control | Yes |
| Memory | Extension via MicroSD card (not included) |
| Battery type | Lithium-ion |
| Battery life | 1 hour approx. |
| Power | 12 & 24v adapter included |
| Dimensions | 173x99x19mm |
| Weight | 239.6g |
If you liked our Garmin Camper 780 Review you may want to share with a friend: