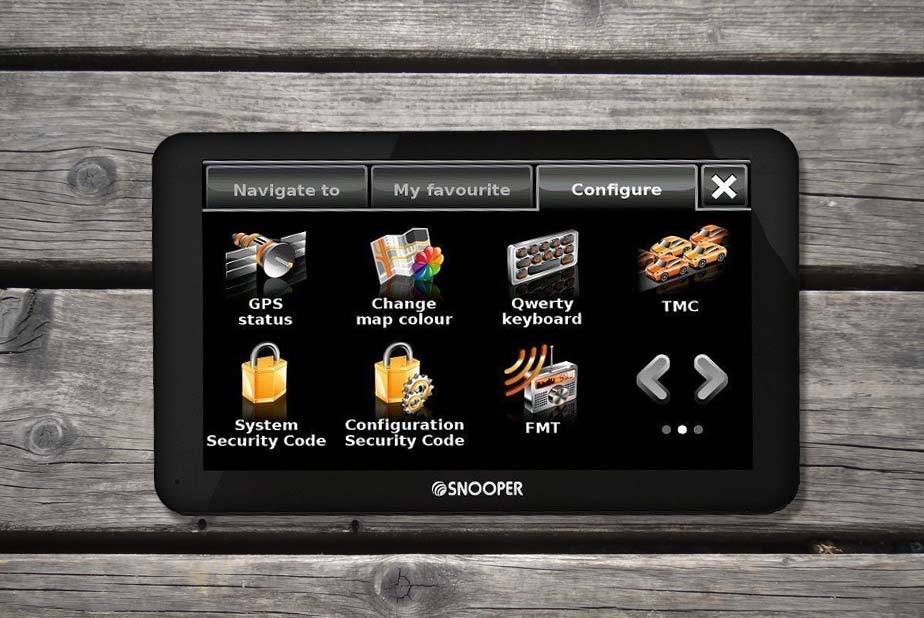 SNOOPER Ventura S8110 Review
The Snooper Ventura S8110 is a motorhome and caravan sat nav that comes with a large 7 inch touch screen. Like with other caravan and motorhome sat nav devices, it is able to plan specific itineraries using the vehicle's dimensions and weight, excluding all unsuitable roads. This model also comes with a built-in tv receiver.
SNOOPER Ventura S8110 Test
Like on the other models of the Snooper range, the Ventura S8110 offers comfortable navigation with its 7 inch screen. It clearly displays all useful information such as speed limits and current vehicle speed, road warnings and hazards on the current itinerary. Like on the other Snooper models, a lane guidance feature does a good job at making sure we take the right exits and lanes, along with the pretty efficient junction view from the manufacturer.

The Ventura S8110 did a pretty good job at planning suitable itineraries for our motorhome once we'd entered all the vehicle's specs (weight, size, etc.) excluding all unsuitable routes like ones that are too narrow, or with low bridges or weight restrictions. The Ventura S8110 offers the same user-friendly configurator as the Ventura S6110 for creating the vehicle's profile.
For a 7 inch screen device, the resolution is fairly poor on this model with just 800 x 480 px. Such a shame! especially considering this screen will also be used to display television programs and films, given that this model comes with a built-in tv receiver.

Impressive! This motorhome sat nav can manage up to 10 Vehicle profiles
Like with most motorhome and caravan satnav devices, the Ventura S8110 offers a 'Car mode' which means you can also use the device in your car as well as in your motorhome. An excellent feature on this model is the ability to enter and save up to 10 different vehicle profiles! This can be very useful for users who need to use the sat nav in multiple different vehicles or with different vehicle profiles. Some drivers may for example create a profile they will name 'Car towing caravan' and another profile named 'My Motorhome' and possibly even 'Motorhome + trailer'.
When creating a vehicle profile, the system also requires that we specify whether or not we are driving a towing vehicle. This is clever, as the sat nav will be able to avoid all roads that are not suitable for vehicles towing caravans or trailers.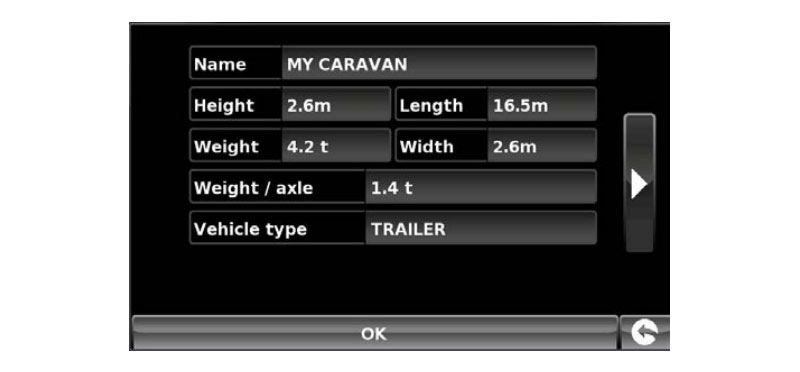 An Excellent Campsite Search engine on this model
We were impressed by the smart campsite search on this Ventura S8110. Indeed, this is a very powerful and efficient search engine that will allow the user to make searches by campsite facilities and other criterias like the location.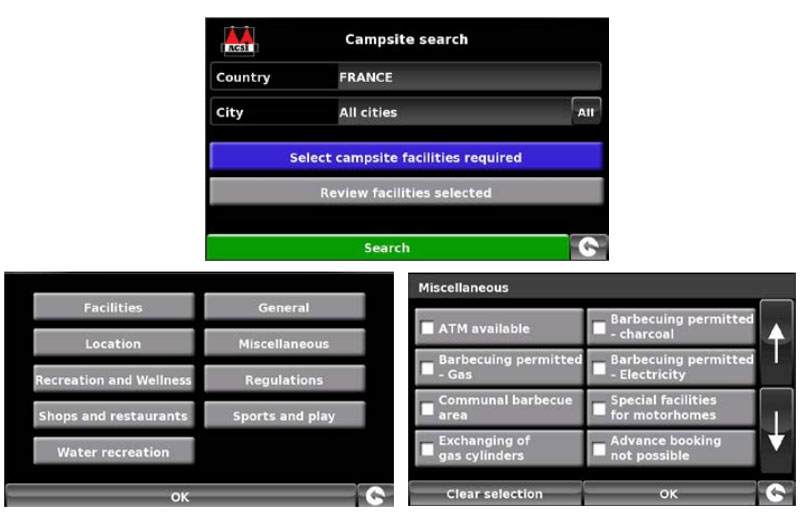 You select the facilities that you are interested in, and the sat nav then only displays in the search results the campsites and areas that meet your requirements. For example, you may only want to search for campsites that have a swimming pool, or ones located on the coast or close to shops, ATMs, etc. The Ventura also provides extra information for each proposed area : Details of the services available, rates, and when available, it will also include a photograph of the campsite.
This model includes a searchable database of over 24 000 campsites and thousands of points of interest. The information is provided by well-known specialized companies such as The Caravan Club, ACSI and BordAtlas.
Specific Points of interest for Motorhome and Caravan Sat nav
Thousands of specific points of interest for camping enthusiasts are preloaded on this Snooper Ventura S8110. These POIs will allow you to find tourist sites and monuments, buildings, motorhome accessory stores, and a lot of other services.
While the database includes 24 000 campsites across Europe, this model also allows the user to add extra POIs that can be downloaded from the manufacturers website and transferred to the motorhome sat nav using the software provided by Snooper.
Ease of use of Multi-routes and Journey planner
Planning a basic itinerary from A to B is pretty straightforward on the Snooper Ventura S8110 and is easily done. Just like on the other models from the Snooper Ventura range, this model will also allow you to create journeys in the UK and Europe with stops in multiple different locations. You can in fact add up to 16 different locations when planning a journey by inputting postcodes or using POIs ( Points of interest). The Ventura S8110 also allowed us to include specific roads that we wished to travel on. Once we'd stopped in a location and decided to get going again, the device would offer to continue with the current planned journey or start a new one. This model allows you to save up to 7 different journeys on the memory.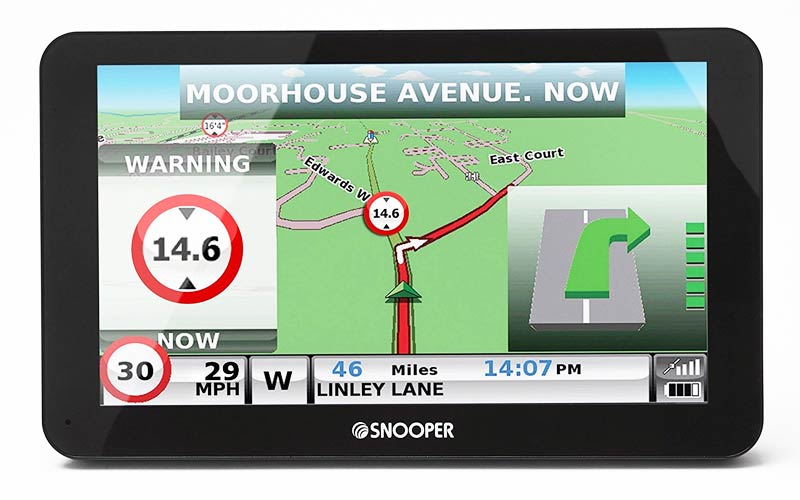 Motorhome and Caravan sat nav with lifetime map updates and free traffic information
Just like with the Ventura S2700 and S6810, this model comes with free map updates. This is good news given that updating maps on models that do not offer free map updates can be very expensive. It is important to always have the latest maps on sat nav devices especially Motorhome sat nav which needs to have up-to-date information on road restrictions.
Live traffic information is also included for no extra cost on this Ventura S8110 which uses a TMC traffic receiver. You will need to mount the provided antenna to the windscreen of your vehicle and plug it into the device. Some motorhome and caravan sat navs offer paid traffic information using a built-in SIM card or using your phone's data plan to receive the information. The TMC network is free and does not require a subscription of any kind. However, as it uses FM stations to transmit the data, the reception is sometimes affected by geographical conditions (when driving in remote areas and mountainous roads for example).
Snooper Ventura S8110 : Motorhome sat nav with Built-in Television?
As well as being a motorhome and caravan sat nav, this Ventura S8110 is also a portable television since it comes with a DVB-T2 tuner (Digital Video Broadcasting). This is quite an unusual feature that we were excited to try out, although we do wonder if this will be useful to anyone. Indeed, most caravans and motorhomes seem to be well equipped nowadays with TVs and sound systems.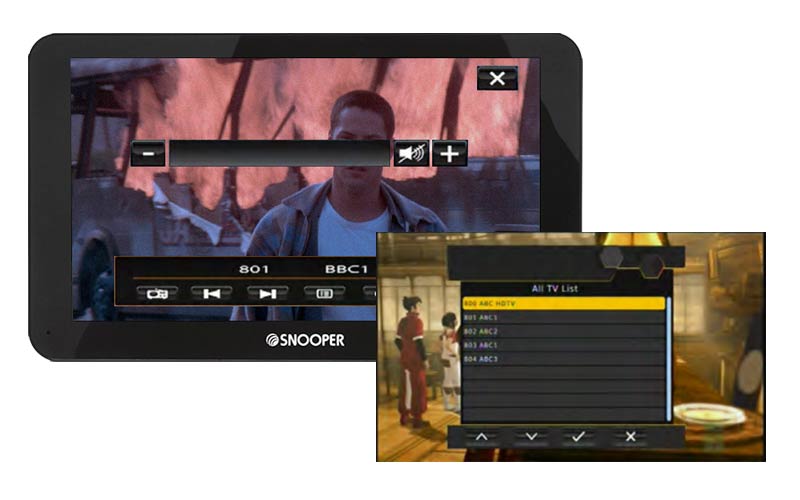 Regardless, the built-in TV does its job but of course must only be used during breaks or when you've arrived at your destination. The feature is actually disabled when you go over 6 mph. The tuner sometimes struggles to get a good reception especially in remote areas but the manufacturer also provides an external TV antenna that you can plug into the right side of the device. You can also try pointing the built-in antenna in the direction of the transmitting station. To find out where this station was in our location, we simply looked around and spotted a few domestic external antennas that were all pointing in the same direction!
This model also comes with an FM transmitter that can be used to send the turn-by-turn instructions and the TV audio to the radio in your vehicle and therefore be heard in the speakers. This could come in handy as the built-in speaker on the device is not the best you'll have ever heard…
Optional Camera and driving hazard Database
The Snooper Ventura S8110 will be able to warn you of any hazards or fixed cameras on your itinerary. However, to access this feature you will need to register and download the AURA camera database which requires a subscription. It costs about £3 per month but is cheaper if you go for a yearly subscription.
Additional features : Hands-free phone and Reversing camera
The Snooper Ventura S8110 comes with a built-in hands-free phone kit that enables you to connect your mobile phone to the device and make phone calls. We tested this feature on another Snooper model, and as with many sat navs, the built-in microphone only gives limited sound quality for the person on the other end of the line. A handy feature that isn't as efficient as dedicated systems such as Parrot devices or factory mounted systems that come with the vehicle.
This Ventura S8110 also has an AV-in socket (2.5mm jack) that can be used to connect an optional reversing camera. When connected, the sat nav automatically displays the video signal from the camera when reverse gear is engaged.
The Strengths of this Motorhome Sat nav
Brilliant Smart search engine
The data sheets for each campsite with photos and all useful information
The free lifetime updates for maps and free traffic information (TMC)
Weaknesses of this Caravan and Motorhome Sat Nav
The quality of the touch screen and the LCD display with its low 800 x 480 resolution
The price of the device
Our opinion on this motorhome and caravan Sat Nav Snooper Ventura S8110 Review
The Snooper Ventura S8110 comes complete with a lot of features but is quite an expensive piece of equipment. The fact that you can create and save up to 10 different vehicle profiles is great, and the campsite search engine is excellent. But these features can also be found on the cheaper Ventura S6110. Therefore you should only go for this model if you are planning to use the built-in TV receiver a lot. If you're not interested in the Freeview TV, you should go for another model of the Snooper range or check out the Garmin Camper 770 LMT-D which has similar capabilities and features at a lower price.
Price: £279.99

& FREE Delivery in the UK
Detailed Specs for the Snooper Ventura S8110
| | |
| --- | --- |
| Included accessories | Power cable (12-24V), TMC antenna, suction cup mount, USB cable, AV-in cable, TV antenna, Carry case |
| Screen size | 7 in |
| Screen resolution | 800x480 px |
| Screen type | TFT LCD Touch screen |
| Maps | Europe 38 countries |
| Free lifetime map updates | Yes |
| Campsite lists | Yes |
| Trip planner | Yes |
| Lane assist / Junction view | Yes |
| Live Services | No |
| Traffic information | Via TMC (no subscription required) |
| Hands-free Phone feature | Yes |
| Reversing camera | Yes, optional |
| Voice control | No |
| Memory | 32GB MicroSD card |
| Battery type | Lithium-ion 1800mAh |
| Battery life | 1 hour +/- |
| Power | 12 & 24v adapter included |
| Dimensions | 181x109x20mm |
| Weight | 370g |
Would you like to share our Snooper Ventura S8110 Review with a friend?