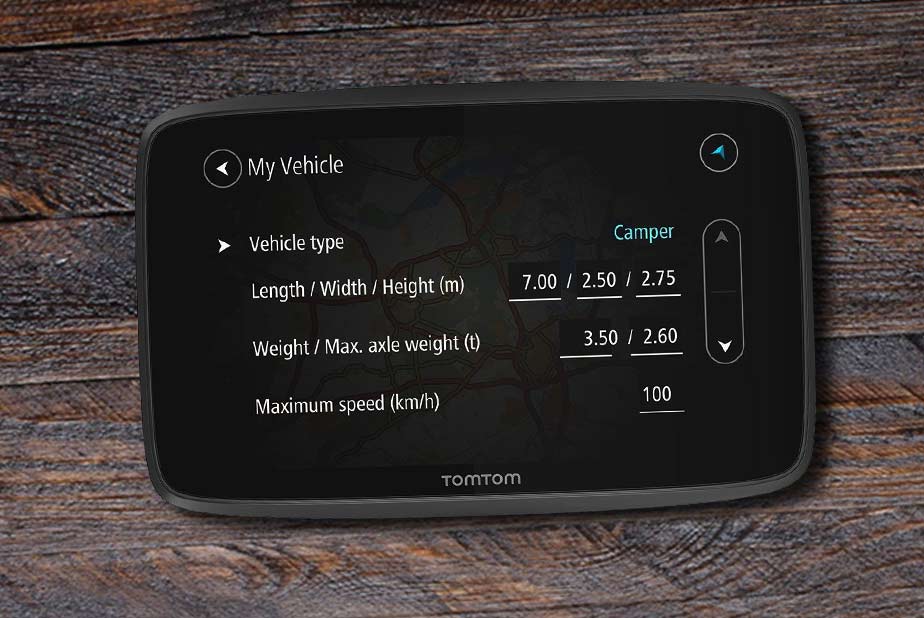 TOMTOM Go Camper Review - Motorhome and Caravan Sat nav device… from TomTom!
When it was announced by TomTom that they were releasing a new "Camper" model, we thought "At last TomTom is back with an all new Caravan and campervan sat nav device!" We were very excited to get our hands on this new device to give it a try.
The TomTom Go Camper being specially designed for using with motorhomes, campervans and caravans includes a lot of useful features that will be helpful to campervan and caravan drivers.
This model comes loaded with millions of POIs (points of interest) although not all of these POIs are dedicated to campers, as TomTom also intends the device to be used with cars. There is however a large number of POIs which will be very useful for trips with campervans or caravans. As with all Motorhome and caravan sat nav devices, the itineraries are planned by the Go Camper using the size and weight of the vehicle.
Price: £269.99

& FREE Delivery in the UK
Caravan and Motorhome sat nav, the Go Camper manages vehicle's weight and size

As you turn on the Go Camper for the first time, it will launch a configurator which will ask you to enter the profile information of the vehicle you'll be using. This can be a car, a car with caravan, a light camper, or a heavy camper (motorhome). You can then enter all the appropriate information regarding the size and weight of the vehicle. Setting this information is easy but is a very important step as it will allow the system to provide you with appropriate itineraries.
The TomTom Go Camper, unlike the other caravan and motorhome sat nav devices we've reviewed, offers very detailed worldwide maps. These maps include all the restrictions you may face with your motorhome / campervan or caravan, such as weight limits, narrow roads, and height restrictions.
The motorhome sat nav Go Camper offers good lane guidance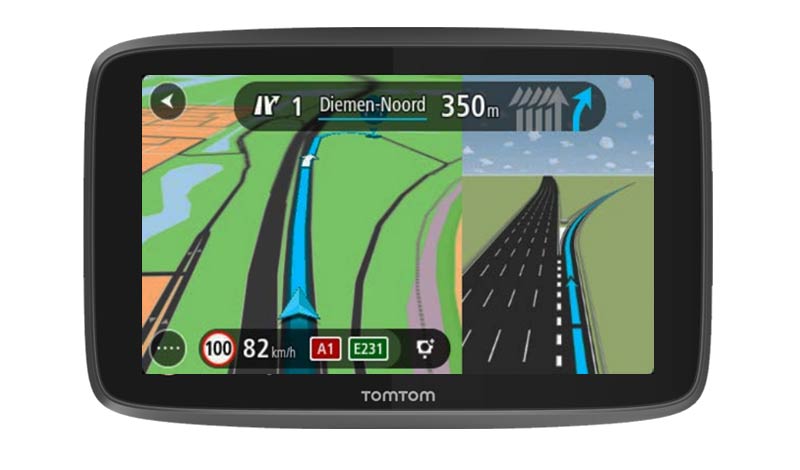 This new Go Camper includes the Advanced Lane Guidance feature that can now be found on most of the models from the TomTom range. It is very similar to the "Active Lane Guidance" from the Garmin models. Thanks to this feature, the device is able to create a display that makes it easy to be in the correct lane at complicated junctions and exits. It splits the screen adding synthetic images with animations such as arrows pointing in the right direction and vocal indications.
Lifetime World Map updates for the TomTom Go Camper!
This new caravan and motorhome sat nav offers free world map updates. Updating maps on a sat nav can be expensive so this is something you should consider when comparing caravan and motorhome sat nav devices. Having the possibility to update the maps for free means you are always up-to-date with the latest maps and points of interests and therefore you know you will be getting reliable information on campgrounds, campsites, equipments, and accurate itinerary planning.
A great feature we really like on the Go Camper is the ability to update maps without having to use a computer. Indeed, this caravan and motorhome sat nav comes with built-in Wi-Fi which means you can connect the device to your home network (just like with a tablet or a smartphone) and download all updates straight from the screen using the built-in interface. This is very convenient as it makes updating the sat nav a lot easier and quicker!
Live services with a built-in SIM card : the great feature of this caravan sat nav
Having access to real time information when on the road with your caravan or campervan is very helpful. Most motorhome and caravan sat nav devices now offer live services. These can sometimes require a subscription, or as with the Garmin models, you sometimes have to use the data plan on your phone to provide the sat nav with internet via Bluetooth. This new model from TomTom comes with a built-in SIM card which is, we believe, the most convenient and efficient way to get live information. Indeed, there is nothing you have to do (no apps to install, no settings to touch, no phone to pair) the device automatically connects to the available network and thus has access to internet to provide you with live information. The service is free and TomTom also say there will be no extra charges when using the live services abroad (no roaming charges). We double checked and live services are actually limited to the countries included in the map installed on the device when purchased.
The live services provided include traffic information which we found to be pretty accurate. This service gets traffic information when planning an itinerary and during the journey in order to allow us to avoid congestion.
The live services also include information on speed cameras. We found this to be very accurate with fixed cameras (tested in the UK and a journey in France) but didn't have the opportunity to see it in action with mobile cameras although it does claim to warn you of those cameras as well. The system can also warn the driver when entering a zone with an average speed camera, reminding you of the current speed limit and indicating the average speed of the vehicle in the zone.
Price: £269.99

& FREE Delivery in the UK
Is the Motorhome sat nav TomTom Go Camper easy to use?
TomTom sat nav devices have often been known for their ease of use and intuitive interface. This new generation model is indeed true to the TomTom reputation adding also modern technology such as the new fully interactive screen. This multitouch display is similar to the ones we are now used to on our phones and tablets in that it allows you to swipe, pinch and zoom.
The TomTom Go Camper also does a good job at displaying the current useful information like the true current speed, the specific speed limits for the vehicle, and very reliable estimated time of arrival (using the real time traffic information).
Efficiency of the Voice control and Hands free features
This TomTom model offers a voice control feature that is also compatible with Siri and Google Now. You can press a button on the screen and control your phone using the built-in microphone on the device. Pairing the phone to the Go Camper via Bluetooth is also pretty straightforward. To activate voice control on this model you simply say "Hello TomTom!" and the motorhome sat nav will display a list of voice activated controls. There are dozens of commands available for navigation such as "When will I get there?" or "Got to a car park", and also many commands for the device's settings like "Volume up / down", "Day / night colours", etc. We thought the voice control feature on the Go Camper was comprehensive and efficient.
The Bluetooth hands free feature enables the user to make phone calls. As with most sat nav devices it is decent but not as good as dedicated devices such as factory mounted units. The TomTom Go Camper also offers a Text to Speech feature which enables the device to read aloud messages received on the paired mobile phone. This is a great safety feature.
Planning trips for the TomTom Go Camper review
The TomTom Go Camper Caravan and Motorhome Sat nav can be synced to TomTom MyDrive which is an online application that allows you to create and plan new itineraries on your computer and send them to the device. The application allows users to upload and download POIs and share locations and favourites with the online community. The MyDrive application is also great for saving all navigation history and favourites as an online backup allowing you to restore all information to the Go Camper after a reset. The application also includes the TomTom Road Trips collection which offers hundreds of pre-planned journeys created by TomTom and the community. In the example bellow, we've filter the results to display trips that are suitable for campers on the Road Trips website: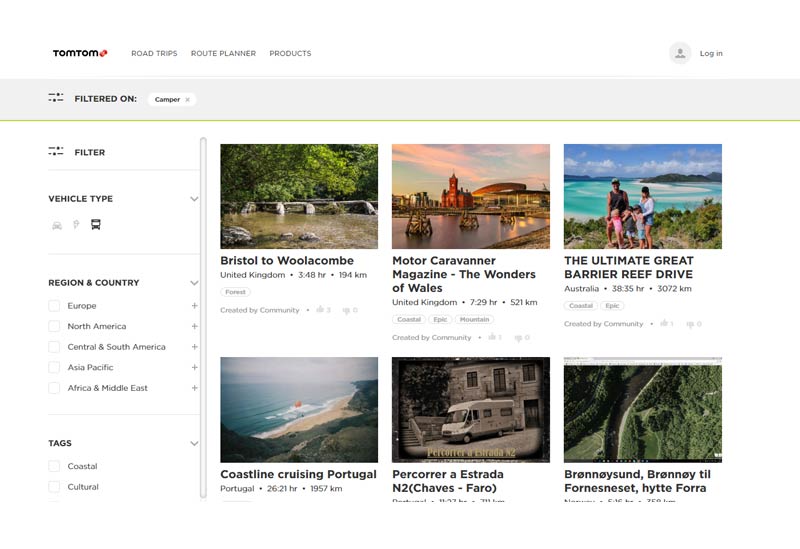 The Strengths of this Caravan and Motorhome Sat nav
Free lifetime map updates and World maps available for free
The free live services which are included and work with a built-in SIM that connects automatically to the network
New multi-touch screen with a intuitive easy-to-use interface
Wi-Fi connection makes it easy to update maps without having to use a computer
The Weaknesses of this Caravan and Motorhome Sat nav
Having World Maps is great but it is important to note that the device comes pre-loaded with one map (Europe,for example). Thus you will need to add new maps manually using the built-in Wi-Fi when using the device in other parts of the world.
Our opinion on the Caravan and Motorhome Sat Nav TomTom Go Camper
The fact that TomTom is back in the world of Motorhome and Caravan sat navs is great news and we know many camping enthusiasts had been waiting for this device! This new Go Camper is a modern version of the previous model that was manufactured quite a few years ago now. It is a very comprehensive device and will definitely meet a great success especially with users who love the TomTom brand. It is intuitive and easy to use, on the road as well as at home thanks to the Wi-Fi connection and the TomTom MyDrive application which allow to prepare for upcoming journeys. This Motorhome and caravan sat nav device is however quite expensive at this time when compared to its main competitor, the Garmin 660 LMT D.
Price: £269.99

& FREE Delivery in the UK
Detailed Specs for the TomTom GO Camper
| | |
| --- | --- |
| Included accessories | Power cable (12-24V), Active magnetic mount, USB cable. |
| Screen size | 6 in |
| Screen resolution | 800x480 px |
| Screen type | Capacitive LCD screen |
| Maps | Worldwide |
| Free lifetime map updates | Yes |
| Campsite lists | Yes |
| Trip planner | Yes |
| Lane assist / Junction view | Yes |
| Live Services | Yes, using built-in SIM |
| Traffic information | Yes (no subscription required) |
| Hands-free Phone feature | Yes |
| Reversing camera | No |
| Voice control | Yes |
| Memory | 16GB. Extension via MicroSD card (not included) |
| Battery type | Lithium-ion |
| Battery life | 1 hour approx. |
| Power | 12 & 24v adapter included |
| Dimensions | 163x105x18,6mm |
| Weight | 262g |
If you enjoyed our TomTom GO Camper Review you may like to share with a friend!